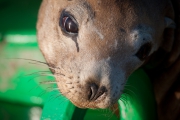 The combined Ports of Long Beach and Los Angeles is the nations largest seaport complex, complete with a dizzying array of ships, trucks, trains, cranes and quite remarkably, wildlife. There is a delicate and often changing balance between huge, industrial activities and small adaptable aquatic ecosystems and their marine inhabitants. The species determined to live among all this heavy equipment and activity are committed to surviving despite the possible surrounding peril. This photo collection of birds, seals, dolphins and whales call the port their home and live amid a backdrop of working men and their massive machines.
Purchase images individually or select your favorite 10 images for a discounted price of $5,000.00 per set.
All these 16x20 images are printed on 100% Rag Paper using Archival Pigment Ink. Prints include a 20x24 4ply Museum-quality board, 100% cotton fiber, buffered with calcium carbonate with a pH of 9.0 +/- .5.
Maritime photographer, Tim Rue hasn't always been working high atop gantry cranes or sidestepping monstrous top loaders but its all part of the backdrop for his contract work for the nations largest seaport complex. His job description entails hanging out of a helicopter at 8000 feet for aerials, navigating a Jacob's ladder on the side of a 1000ft container ship, inching along a catwalk to mount a remote camera under a bridge for a time-lapse sequence and scuba-diving with port police to document possible bomb targets for homeland security.