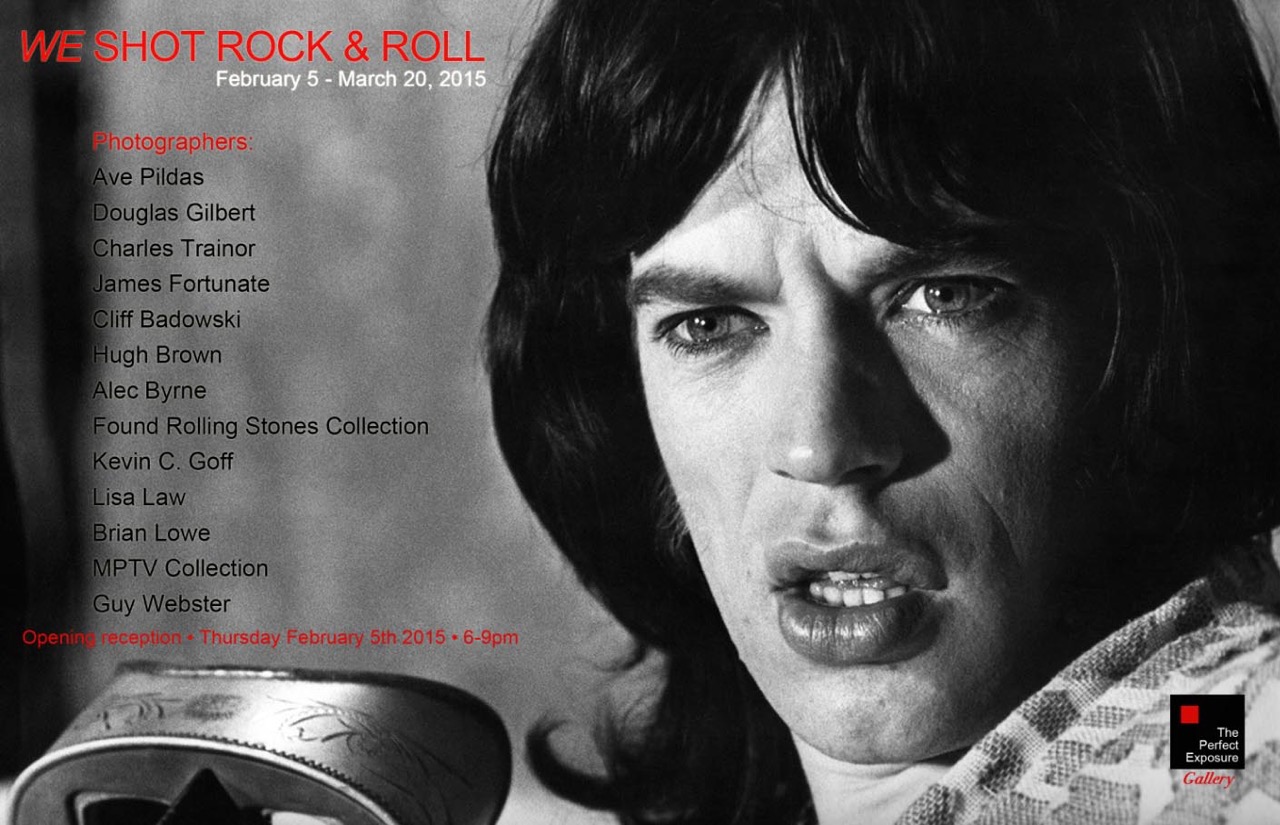 ABOUT THE EXHIBIT
The Perfect Exposure Gallery presents "We Shot Rock and Roll."
An exhibit featuring photographs of rock and roll's legends.
ABOUT THE PHOTOGRAPHER
Ave Pildas, Douglas Gilbert, Charles Trainor, James Fortunate, Cliff Badowski, Hugh Brown, Alec Byrne, Found Rolling Stones Collection, Kevin C. Goff, Lisa Law, Brian Lowe, MPTV Collection and Guy Webster and Mitchell Haddad.
ABOUT THE GALLERY
The Perfect Exposure Gallery is the recognized venue in Southern California to display the work of award winning and accomplished photojournalists as well as works of photographers that regard artistry and craftsmanship as a standard of excellence. The mission of the Perfect Exposure Gallery is to present exhibits free of charge to the general public with the following goals to exemplify the rich variety and impact of photography, freedom of expression, a forum for the aesthetic, the contemptible and the sublime.


Exhibition dates: Thursday 5, February 2015 to Friday 20, March 2015

Alec Byrne ALBY
1 · Bob Dylan, Isle of Wight, 1969
Bob Dylan / Alec Byrne
20x24 Archival Pigment Print Edition of 50 Signed
$ 1600.00

# EXH086_1826

Alec Byrne ALBY
4 · Bob Marley, 1975
Bob Marley / Alec Byrne
20x24 Archival Pigment Print Edition of 50 Signed
$ 1600.00

# EXH086_1790

Alec Byrne ALBY
5 · John Lennon, NYC, 1972
John Lennon / Alec Byrne
20x24 Archival Pigment Print Edition of 50 Signed
$ 1600.00

# EXH086_1813

Alec Byrne ALBY
6 · Jim Morrison, The Roundhouse, 1968
Jim Morrison / Alec Byrne
20x24 Archival Pigment Print Edition of 50 Signed
$ 1600.00

# EXH086_1825

Alec Byrne ALBY
7 · Jimi Hendrix, Backstage, 1967
Jimi Hendrix / Alec Byrne
20x24 Archival Pigment Print Edition of 50 Signed
$ 1600.00

# EXH086_1817

Alec Byrne ALBY
8 · Paul McCartney, 1970
Paul McCartney / Alec Byrne
20x24 Archival Pigment Print Edition of 50 Signed
$ 1600.00

# EXH086_1798

1978 Bill Avery / mptvimages
11 · Elvis Presley, 1956
Elvis Presley, 1956 / Bill Avery
11x14 Silver Gelatin #2 of Open Edition Estate Stamped
$ 700.00

# EXH086_1819

Hugh Brown HUBR
13 · Mick Jones, Magic Mountain
Mick Jones / Hugh Brown
16x20 Lightjet Print Open Edition Signed
$ 1200.00

# EXH086_1812

Guy Webster GUWE
14 · The Doors #4
The Doors / Guy Webster
16x20 Archival Pigment Print Open Edition Signed
$ 1000.00

# EXH086_1811

Guy Webster GUWE
15 · Nico
Nico / Guy Webster
16x20 Archival Pigment Print Open Edition Signed
$ 1000.00

# EXH086_1793

Brian Lowe BRLO
16 · Slash
Slash / Brian Lowe
16x20 Archival Pigment Print Edition of 50 Signed
$ 600.00

# EXH086_1818

Lisa Law LILA
17 · Bob Dylan, Solarium
Bob Dylan, Solarium / Lisa Law
16x20 Archival Pigment Print Open Edition Signed
$ 1200.00

# EXH086_1806

Alec Byrne ALBY
18 · The Faces
The Faces / Alec Byrne
20x24 Archival Pigment Print Edition of 50 Signed
$ 1600.00

# EXH086_1821

Alec Byrne ALBY
19 · Mick Jagger, Sound Check, 1971
Mick Jagger / Alec Byrne
20x24 Archival Pigment Print Edition of 50 Signed
$ 1600.00

# EXH086_1804

Guy Webster GUWE
20 · Bob Dylan, Cigarette
Bob Dylan / Guy Webster
16x20 Archival Pigment Print Open Edition Signed
$ 1000.00

# EXH086_1791

Lisa Law LILA
21 · Lou Reed
Lou Reed
16x20 B/W C-Print Open Edition Signed
$ 850.00

# EXH086_1808

Lisa Law LILA
22 · Jackson Browne
Jackson Browne / Lisa Law
16x20 B/W C-Print Open Edition Signed
$ 850.00

# EXH086_1801

1978 Bernie Abramson/mptv
23 · Nat King Cole
Nat King Cole
16x20 Silver Gelatin Print Open Edition Signed
$ 2025.00

# EXH086_1824

Guy Webster GUWE
24 · We Shot Rock
The Rolling Stones / Guy Webster
16x20 Silver Gelatin Print from the forthcoming Guy Webster Rolling Stones Portfolio
Call for pricing

# EXH086_1822

Alec Byrne ALBY
26 · Keith Richards, Sound Check, 1971
Keith Richards / Alec Byrne
20x24 Archival Pigment Print Edition of 50 Signed
$ 1600.00

# EXH086_1807

Alec Byrne ALBY
27 · David Bowie, 1974
David Bowie / Alec Byrne
20x24 Archival Pigment Print Edition of 50 Signed
$ 1600.00

# EXH086_1792

Alec Byrne ALBY
29 · Jimi Hendrix, 1967
Jimi Hendrix / Alec Byrne
20x24 Archival Pigment Print Edition of 50 Signed
$ 1600.00

# EXH086_1794

Alec Byrne ALBY
30 · Mick Jagger, Marquee, 1971
Mick Jagger / Alec Byrne
20x24 Archival Pigment Print Edition of 50 Signed
$ 1600.00

# EXH086_1796

Courtesy Found Rolling Stones Collection FRSC
37 · Keith Richards, 1965
Keith Richards Courtesy Found Rolling Stones Collection
7x10 Archival Pigment Print Edition of 50
$ 350.00

# EXH086_1797

Alec Byrne ALBY
38 · Mick
Jimi Hendrix
20x24 Archival Pigment Print Edition of 50 Signed
$ 1600.00

# EXH086_1788

Kevin C. Goff KEGO
41 · Bruce Springsteen, First LA Show, 1975
Bruce Springsteen, The Roxy, 1975 / Kevin C. Goff
16x20 Silver Gelatin Print Edition of 50 Signed
$ 1200.00

# EXH086_1799

Kevin C. Goff KEGO
42 · Eric Clapton, Santa Monica
Eric Clapton, Santa Monica /Kevin C. Goff
16x20 Silver Gelatin Print Edition of 50 Signed
$ 1200.00

# EXH086_1815

Alec Byrne ALBY
43 · Mick Jagger on the set of 'Performance,' 1969
Mick Jagger on the set of 'Performance,' 1969 / Alec Byrne
16x20 Archival Pigment Print Edition of 50 Signed
$ 800.00

# EXH086_1787

Alec Byrne ALBY
44 · Led Zeppelin, Empire Pool, 1971
Led Zeppelin, Empire Pool, 1971 / Alec Byrne
17x22 Archival Pigment Print Edition of 50
$ 800.00

# EXH086_1789

Kevin C. Goff KEGO
45 · Tina Turner, Vegas, 1972
Tina Turner Vegas, 1972 / Kevin C. Goff
16x20 Silver Gelatin Print Edition of 50 Signed
$ 1200.00

# EXH086_1814

Alec Byrne ALBY
46 · David Bowie, 1969
David Bowie, 1969 / Alec Byrne
20x24 Archival Pigment Print Edition of 50 Signed
$ 1600.00

# EXH086_1800

Alec Byrne ALBY
47 · Bob Marley, 1972
Bob Marley, 1972 / Alec Byrne
20x24 Archival Pigment Print Edition of 50 Signed
$ 1600.00

# EXH086_1816

Mitchell Haddad
48 · Elvis Costello
Elvis Costello at the Los Angeles Sports Arena 1981
12x18 Archival Pigment Color Print, Edition 1/35
$ 750.00

# EXH086_1831

Mitchell Haddad
49 · Prince
Prince at the Long Beach Arena, 1983
12x18 Archival Pigment Color Print, Edition 1/35
$ 750.00

# EXH086_1829

Mitchell Haddad
50 · B.B. King
B.B King
12x18 Archival Pigment Color Print, Edition 1/35
$ 750.00

# EXH086_1828

Mitchell Haddad
51 · Peter Gabriel
Peter Gabriel at the Universal Amphitheatre
12x18 Archival Pigment Color Print, Edition 1/35
$ 750.00

# EXH086_1830

Mitchell Haddad
52 · Ray Charles
Ray Charles at Hollywood Bowl, 2001
8x10 Silver Gelatin Print
$ 225.00

# EXH086_1827

Kevin C. Goff KEGO
53 · Jack White
Jack White, Farm Aid, 2014 / Kevin C. Goff
13x19 Archival Pigment Print Edition of 50 Signed
$ 800.00

# EXH086_1809

1996-98 AccuSoft Inc., All rights reserved
54 · Jimi Hendrix, Devonshire Downs, 1969
Jimi Hendrix Devonshire Downs, 1969 / Kevin C. Goff
16x20 Archival Pigment Print with Deckle Edge Edition of 100
$ 1200.00

# EXH086_1810

Alec Byrne ALBY
55 · The Beatles, 'All You Need is Love,' 1967
The Beatles 'All You Need is Love,' 1967 / Alec Byrne
20x24 Archival Pigment Print Edition of 50 Signed
$ 1600.00

# EXH086_1795

Alec Byrne ALBY
57 · Marc Bolan, 1974
Marc Bolan, 1974 / Alec Byrne
20x24 Archival Pigment Print Edition of 50 Signed
$ 1600.00

# EXH086_1803

Kevin C. Goff KEGO
58 · Marc Bolan
Marc Bolan / Kevin C. Goff
16x16 Archival Pigment Print Edition of 100 Signed
$ 800.00

# EXH086_1823

Steve Banks STBA
59 · Jimi Hendrix, Filmore East, 1968
Jimi Hendrix Filmore East, 1968 / Steve Banks
16x20 Archival Pigment Print Signed
$ 1200.00

# EXH086_1802

Alec Byrne ALBY
62 · Roy Orbison, Rolls, 1969
Roy Orbison Rolls, 1969 / Alec Byrne
20x24 Archival Pigment Print Edition of 50 Signed
$ 1600.00

# EXH086_1805

Alec Byrne ALBY
63 · Mick Jagger, Marquee
Mick Jagger Rolling Stones 10th Anniversary Show The Marquee, London / Alec Byrne
66x33 Archival Pigment Print Unique Framed
$ 3600.00

# EXH086_1820

The Perfect Exposure Gallery
2424 W. Valley Blvd.
Alhambra, CA 91803
United States www.TheperfectExposureGallery.com
contact@theperfectexposuregallery.com
T 213.381.1137
T 213.381.1138


powered by