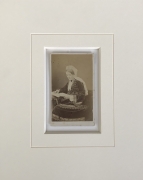 A CLOSER LOOK
Open Call for "A Closer Look" photo exhibit

Scale is an important facet of images. Small-format photographs force observers to get close and lean into the picture. A small size image establishes intimate connections between the photo and the viewer.
In conjunction with A Closer Look, a private collection of cabinet cards will also be on display. These wonderful small scale portraits became popular from the 1870s to 1900. In addition to having a warm sepia tone the backs were often elaborate advertisements for the photographer's studio.

ABOUT THE EXHIBIT:
The Perfect Exposure Gallery is accepting submissions for a Group Show on small-scale photographs. The exhibition will feature both emerging and established photographers.

DEADLINE:May 30, 2020 at 12:00 a.m. PST. There's No Fee for submission. Entry fees are established for work accepted in the show.

TERMS AND CONDITIONS:
All participants agree to allow The Perfect Exposure Gallery to exhibit and offer for sale original photographs produced by the artist. The artworks will be made available for sale at the retail price assigned by the artist. The Perfect Exposure Gallery and the Artist agree to split the sales percentage equally (50/50).

For a unified exhibit, The Perfect Exposure Gallery will produce the print(s) selected for admittance. The prints will be Archival Inkjet Prints made on Canson Platine Fibre Rag with a maximum width/height of 6 inches. The works will be matted in White 8-ply museum board and finished in 11x14 black wooden frames. The artist will incur the cost of printing and framing through the Perfect Exposure. If the work is not sold, the photos will be returned to the Artist at the end of the exhibition.

Printing, matting, framing and hanging hardware fee is: $85.
Mat, frame and hardware only: $70


SUBMISSION GUIDELINES

Regarding your files we have a few requirements.

1. JPEG images (6" at longest side @ 150 dpi)

2. Metadata embedded (Including: photographer name, contact info,

3. Naming convention: [First Initial] [Last name]_123.jpg. i.e. APicture_123.jpg

4.Email Submissions to Contact@ThePerfectExposureGallery.com with
Subject: A Closer Look 2020. If your photos are chosen, we will reach out to you and ask you for high quality files and the details of your photos.

*This submission process DOES NOT guarantee that your work will be selected to exhibit

A CLOSER LOOK, the exhibit will take place from May 16-31, 2020
Opening reception - Saturday 16, May 2020. from 5:00-9:00 p.m.