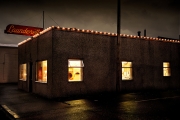 For the past decade I've been working as an accidental Russian cinematographer. It turns out that life is a journey one knows not where it will lead.
As a youth, I never imagined visiting the Soviet Union, but it seemed to me like a parallel universe. A contrary world. They had cars, airplanes, buildings, but different. And big brother was always watching. One turned up the radio and spoke in hushed tones.
Now, the former USSR is open and normal, but always with hints from the bygone era.
The photographs here reflect my impressions with a little contrast to my own mother land.